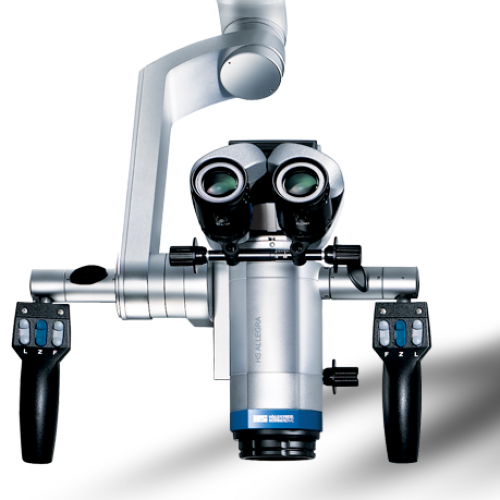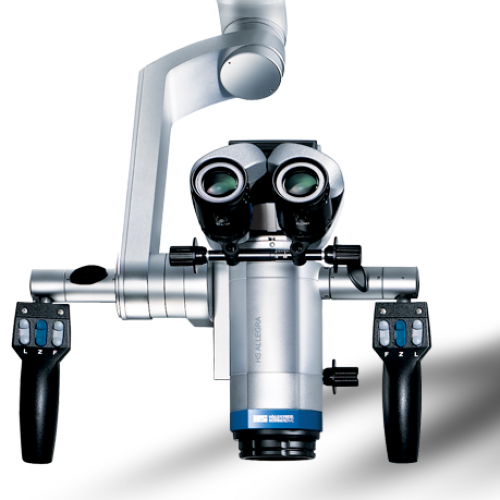 Haag-Streit Surgical
HS Allegra 500
Due to the inclination angle of -30° to +120° and the lateral tilt of +/-45°, deep cavities and narrow canals can be optimally illuminated and examined while HS ALLEGRA 500 always remains balanced. No springs need to be tightened, no knobs turned. The electromagnetic brakes retain the microscope safely in its working position.
ln most surgical ENT procedures active assistance is not possible, and hence no stereoscopic observer scope is needed. Therefore HS ALLEGRA 500 is designed to rotate cardanically around its center of gravity in all directions, requiring only minimal force. Two ergonomic hand grips with function buttons facilitate control of the microscope.
The apochromatic optics provides a sharp and contrasty image for the surgeon at any zoom setting. Due to the large stereo base of 25 mm, a unique depth perception is achieved.
The microscope contains a filter disk for daylight, softlight, UV protection (yellow filter), blue light (excitation of fluorescence), and green light (better recognition of blood vessels). In addition, two spot diaphragms are integrated against glare.